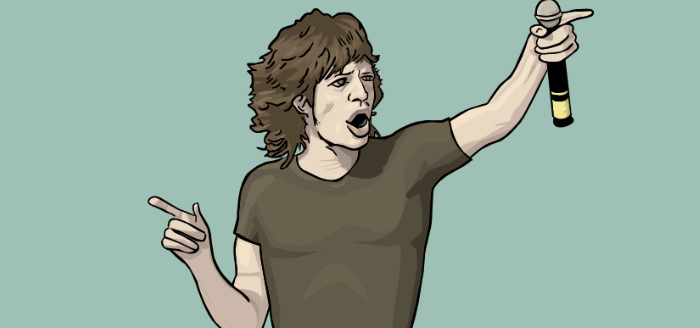 Mick Jagger : Portrait digital par Julien Dugué
Rolling Stones
Rock anglais
The Rolling Stones est un groupe de rock britannique fondé à Londres par Brian Jones. Le nom du groupe vient d'une chanson de Muddy Waters, Rollin stone. Leur single de 1965, (I Can't Get No) Satisfaction fait connaitre les Stones dans le monde entier. Les Stones sont considérés, avec les Beatles, les Who, Led Zeppelin et quelques autres, comme les inventeurs de la musique populaire moderne.
Pays d'origine : Angleterre
Genre(s): Rock and roll, Blues rock
Années actives : 1962 à maintenant
Label(s) : Decca Records, EMI, Virgin
Membres : Mick Jagger, Keith Richards, Charlie Watts, Ron Wood
Site web : www.rollingstones.com
Caricature de Keith Richards
Portrait de Keith Richards dessin par Julien Dugué
Dessins de groupes "Rock"